25 ML
Described as Botox in a bottle! Multiple Award-winning highly concentrated, silky lightweight miracle elixir has been used for centuries in ancient ayurveda to preserve youth and reverse skin ageing.
Our Noncomedogenic fast absorbing face serum is made with 100% Pure Saffron, Sandalwood and the most expensive and luxurious ingredients in the world. Formulated with scientifically proven adaptogens which penetrate deep into the skin and stimulate the production of collagen in the deep dermis and stimulate cell renewal to give you a flawless youthful plumper skin in just one application. 

* 100% saw reduction in wrinkle appearance after one application
* 86% People said their acne scars had cleared in 2 weeks.
Few drops of FaceYoga® Saffron Serum will cover all your daily skincare need including Vitamin C in just one application. 
*Ideal for all skin types including sensitive skin and recommended for acne prone and ageing skin.
*Pregnancy safe 
Regular price
$125.00
Sale price
$125.00
Unit price
per
Sale
Sold out
Share
View full details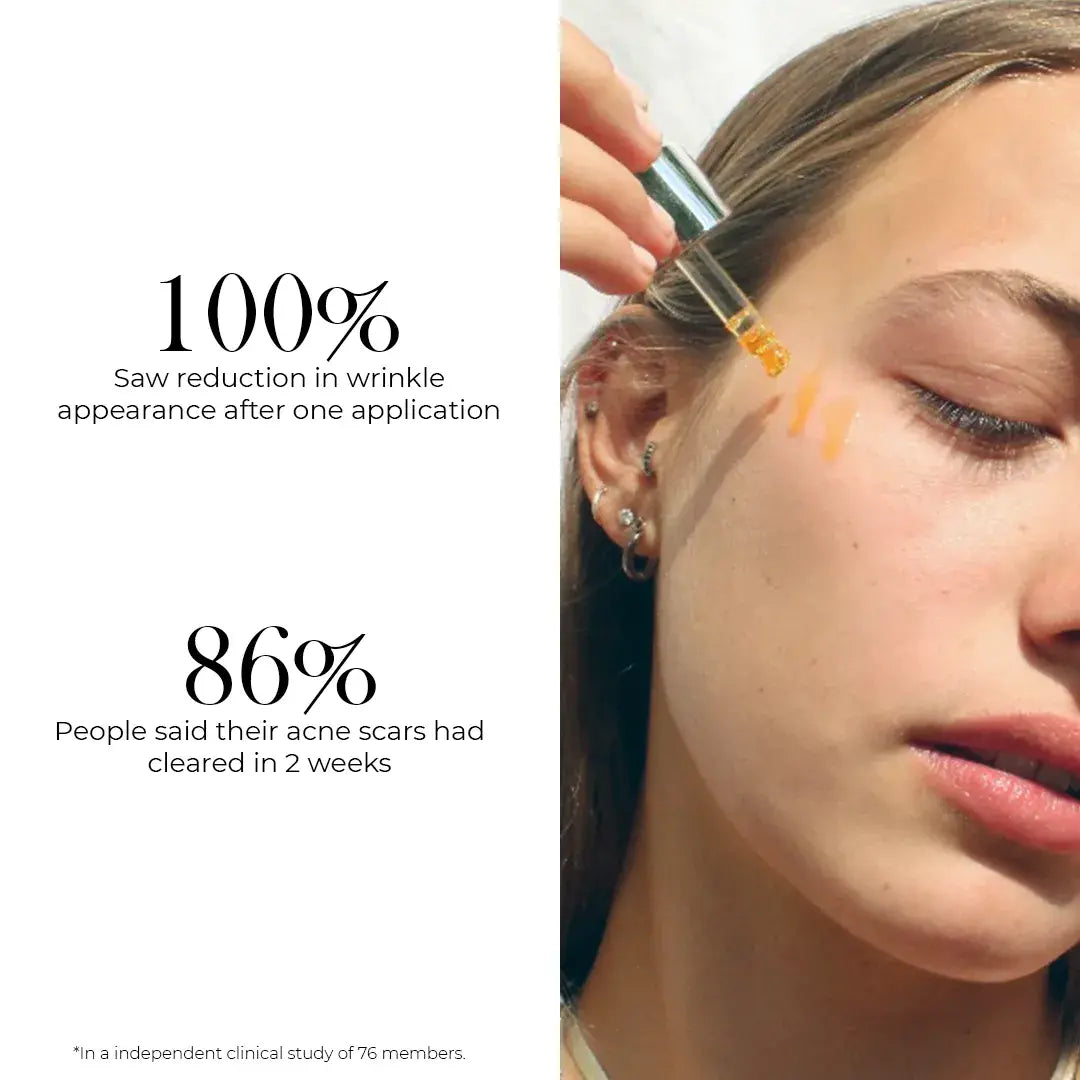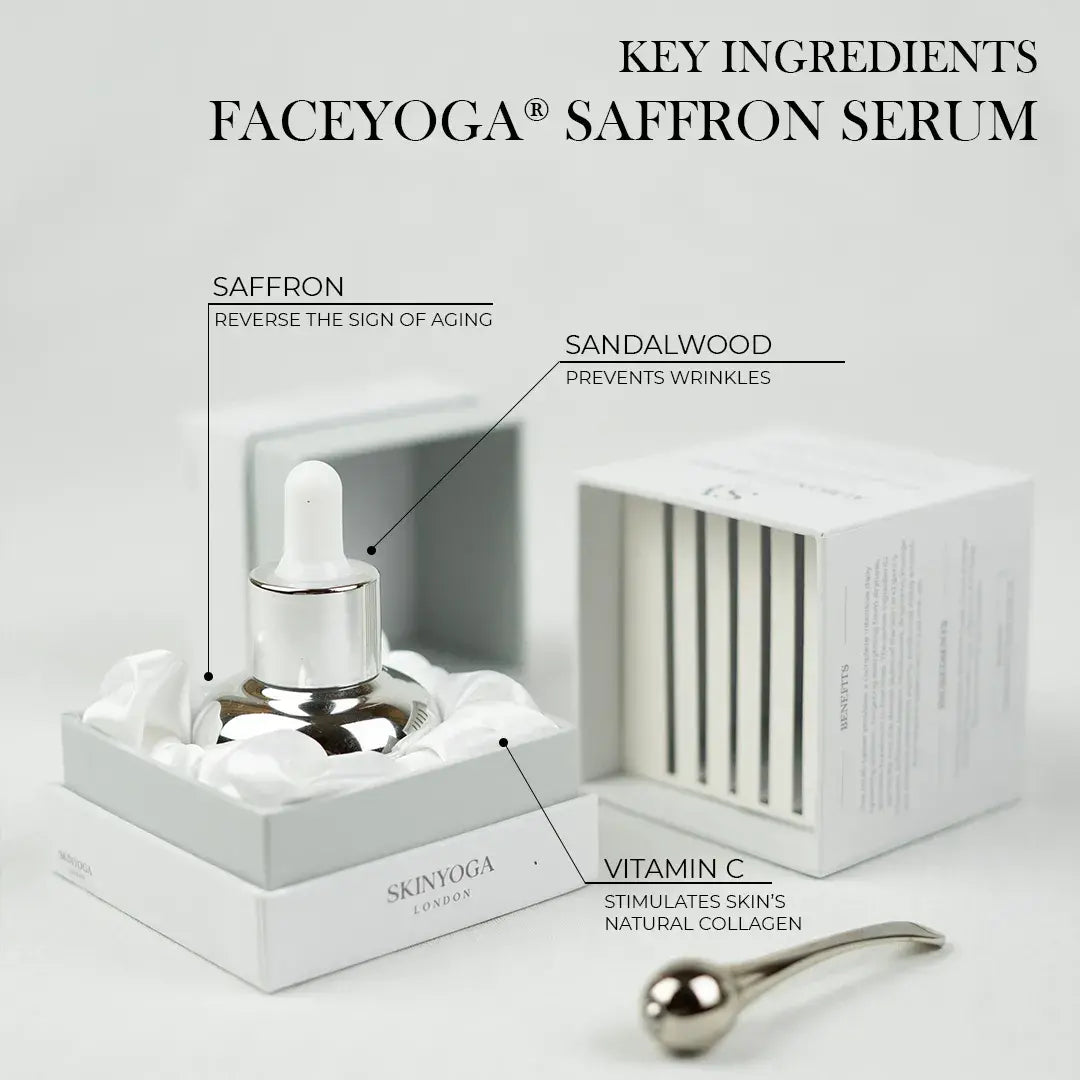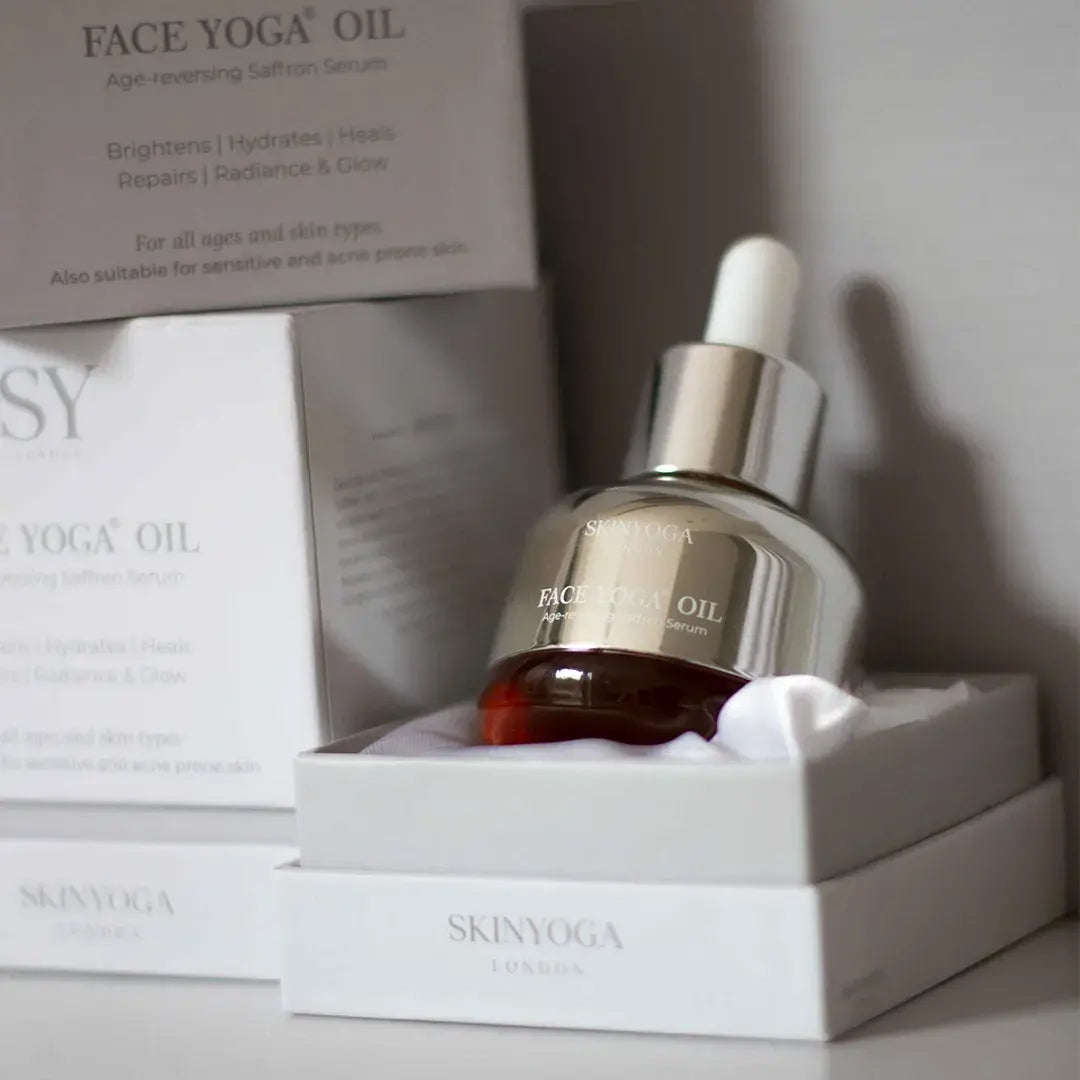 Product Details

Face yoga Saffron brightening serum is a Noncomedogenic face serum. Formulated to repair and produce collagen for a baby soft complexion that glows with vitality.

This is a highly concentrated serum, is prepared using only potent actives and precious ingredients with the same traditional methods and formula mentioned in Ayurveda. We do not use any chemicals or dilute our formulas with cheap low quality ingredients, essential oils or water (aqua) to fill the bottle, which results in highly effective, instant results and quickly absorbed products. 

High level of age-reversing properties found in Saffron will instantly help replenish loss of collagen and restore it to maintain plump, glowing skin. Sandalwood one of the most precious anti ageing ingredients in Ayurveda reduces fine lines and wrinkles, brightens and calms redness which is irritated due to microbial attack. While turmeric fights with germs and acne. Vitamin C & E in Rosehip helps reduce wrinkles and heals acne. While red sandalwood will help calm rosacea, psoriasis, eczema, dermatitis and reduce hyperpigmentation, sun damage, dark circles.
Ancient beauty secret formulation makes it an ultimate anti ageing serum, perfect for everyday use as your daily hydrating moisturiser AM & PM. 

*This ayurvedic formula has been used for centuries in traditional Ayurveda medicine. 100% Natural - Free from parabens, palm oil, sulphates & chemicals.
Benefits

* 100% saw reduction in wrinkle appearance after one application
* 86% People said their acne scars had cleared in 2 weeks.

This time tested formula is renowned and has the power to reverse the signs of ageing and improves skin texture, promotes collagen and evens out complexion. Silky lightweight hydrating serum gets absorbed instantly and leaves a satin finish and vibrant glowing skin all day long.

Massaging your face with this luxurious blend of pure Saffron and 24 rare herbs using our facelift & sculpt kansa wand will make your face 'glow like gold.'

For best results massage the face serum into your face and neck with our Kansa Wand.

*The moment you open the cap of the bottle, your senses are filled with an exotic,
the liberating 3-layered aroma that you would have never experienced before.

How to use

On clean skin, massage 3 to 4 drops over the face until absorbed.
Use morning and night.

You can also mix light weighted serum with your daily foundation to supercharge your skincare routine and reveal a dewy complexion.
Product Ingredients

Rosa canina (rosehip) seed oil (organic), Saffron (Crocus Sativus), Sandalwood (Santalum album), Sesame Oil (Sesamum Indicum), Lodh Tree Bark (Symplocos Racemosa), Manjishta (Rubia Cordifolia), Patanga Flower (Casesalpinia sappan), Red Sandalwood (Pterocarpus santalinus), Agarwood (Aquilaria agallocha), Poppy seeds (Papavar somniferum) Costus Root (Saussurea lappa), Laksha (Lathyrus lacca), Gairik (Geru), Nagkesar seed (Ochrocarpus longifolius), Mahaleb Cherry (Prunus mahaleb), Jasmine (Jasminum officinale), Bay Leaf (Cinnamomum Tamala), Licorice Root (Glycyrrhiza Glabra), Himalayan cherry (Prunus Cerasoides), Lotus seed (Nelumbo Nucifera), Turmeric(Curcuma Longa), Indian Barberry (Berberis Aristata), Flame Of The Forest (Butea Menosperma), Banyan (Ficus Bengalensis, Mustard (Brassica Campestris), Tulsi (Ocimum sanctum) , Muskrat root (Acorus calamus)
Highly recommend pairing it with the facelift wand
Pairing the saffron serum with the wand is a total game changer! With consistency and daily use, I have noticed amazing results! Prior to using this product, I suffered adult acne and stress from the pandemic. My skin took a huge hit. This serum and the wand have revived my skin and I'm in my 40s. The wand helps to calm breakouts that flare up and give you an amazing massage that makes your skin and facial muscle feel relaxed and taken care of! I highly recommend it!
Absolutely love product
What a gorgeous oil for your skin very impressed use morning and evening I will repeat purchase
FLAWLESS impact and product
After a lot of hype on this, i decided on trying it. This serum was exactly what my skin needed. I love the glow, silky velvety feel - literally everything about it makes me happy! After using this for a few weeks I've noticed that even going without makeup has given my complexion an evenness that I havent been able to find any other way. I pair it with the face yoga wand. This product is pure perfection!
Amazing
I absolutely love the saffron face oil! My skin is glowing, I have subsequently passed on to all my friends in our 50's and they are hooked..
My skin drinks it
It applies very nicely on the skin, gets completely absorbed within seconds. The skin remains hydrated throughout the day, I can notice the appearance of fine wrinkles has also reduced and my skin feels fab the next morning.